Very few foods get me legit excited. Brussels sprouts are definitely one of them.
Not only are they good for you, sprouts can be more than a sidepiece with your Christmas dinner. You can make a whole meal with them.

Growing up we didn't eat Brussels sprouts, asparagus and the like - which apparently was to my advantage. I managed to avoid the over-boiled or mushy steamed green globes most associate with sprouts.
I take it that that was just a tragic phase in green cooking, a relic of yesteryear - a byproduct of 1950s TV dinners and cafeteria lunches.
Because nowadays when someone mentions eating Brussels sprouts, a whole choir of HECK YEAHs comes from every corner of the (virtual) room.
Most people roast - of which I am a fan - but that sometimes be a bit tricky with larger sprouts.
The solution?
Thick cuts, pan-seared and sauteed.
And with the golden browns and bright green hues once cooked,
it looks and feels like a Caesar salad.
So throw in some roasted chickpeas, sprinkle on some (vegan) Parmesan cheese,
and drizzle on Caesar dressing, and it's. a. WRAP. #heckyeah
Welcome to the 21st century of Greens, friend. ;-)
If you'd like a full collection of gluten-free Daniel Fast recipes, grab my
customized grocery checklist
and I'll keep you up to date on my "21 Days" course and cookbook!
Did you try this recipe? Let me know how it turned out by leaving a comment below or sharing a picture on IG, tagging @heylydiaeppic with the hashtag #thewellnesskitchen. I appreciate you + your feedback!
---
Sauteed Brussels Sprouts with Toasted Chickpeas
Start to Finish: 40 minutes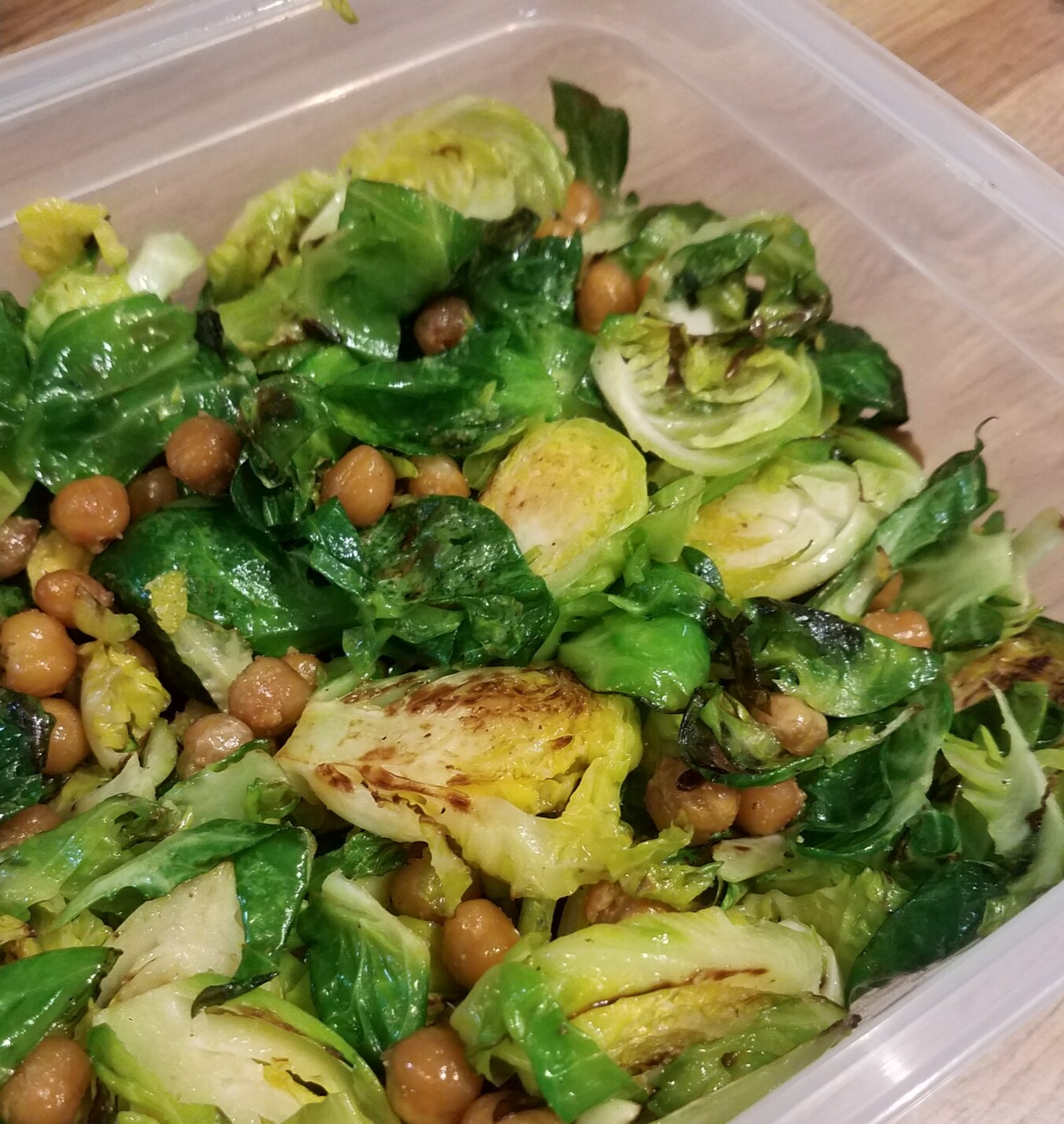 12 oz. fresh Brussels sprouts
1 Tbsp olive oil
½ tsp kosher salt
½ tsp black pepper to taste
1 tsp garlic powder
2 tsp olive oil
1 14.5 oz can chickpeas, drained (keep the liquid!) and rinsed
½ tsp each salt + black pepper + garlic powder
Preheat oven to 350F.
1) Slice the brussels sprouts lengthwise, about ¼" thick.
2) In a large bowl, gently toss the sprouts in olive oil and sprinkle on the salt, black pepper and garlic powder. Set aside.
3) In a medium bowl toss the chickpeas, olive oil and spices. Pour onto a baking sheet, single layer and loosely cover with foil. Bake for 25 minutes at 350F, shaking/flipping over after 15 minutes.
4) While the chickpeas bake, heat a large skillet to medium high heat. Once hot, saute half the brussels sprouts by placing each slice single-layer in the skillet for 2-3 minutes. Flip slices and saute shreds for another 3-5 minutes. Gently saute until the slices are just a touch golden brown. Place in a serving bowl and keep warm, then saute the remaining sprouts.
5) For the chickpeas, remove foil and let broil for an additional 5 minutes. Remove and mix into the serving bowl of sauteed sprouts.
Serve warm. Top with vegan Parmesan cheese and/or vegan Caesar dressing (I use tahini or hummus). Makes 2-3 full servings.
---