Doing a Daniel Fast but feeling the sugar pinch? It's understandable especially if this is your first time fasting.

The Daniel Fast creates a space for spiritual development by focusing on fruits, vegetables, legumes, grains and unprocessed/yeast-free foods. The shift in diet also means typical "comfort foods" take a break.


But eating restricted doesn't mean less taste! Instead it's an opportunity for deep gratitude and a return to the basics. Most fruits are naturally sweet; dates and dried plums and grapes (aka raisins) are also must-haves.

This pancake recipe was inspired by an allergen-conscious friend. She avoids eggs along with gluten and dairy. The last hurdle was substituting for sugar.... a very ripe banana takes care of that nicely.

The result is a thick, hearty pancake that doubles well for a nut-butter-banana sandwich. (yum!) There's no sugar added which makes it Daniel Fast friendly although I would honestly eat these pancakes all year round.

Topped with unsweetened applesauce (my fave) or studded with blueberries, you will want to make a double batch so you can eat some right away and freeze for later!
If you'd like a full collection of gluten-free Daniel Fast recipes, grab my
customized grocery checklist
and I'll keep you up to date on my "21 Days" course and cookbook!
Did you try this recipe? Let me know how it turned out by leaving a comment below or sharing a picture on IG with the hashtag #thewellnesskitchen. I appreciate you + your feedback!
---
Oat Banana Pancakes
Start to Finish: 30 minutes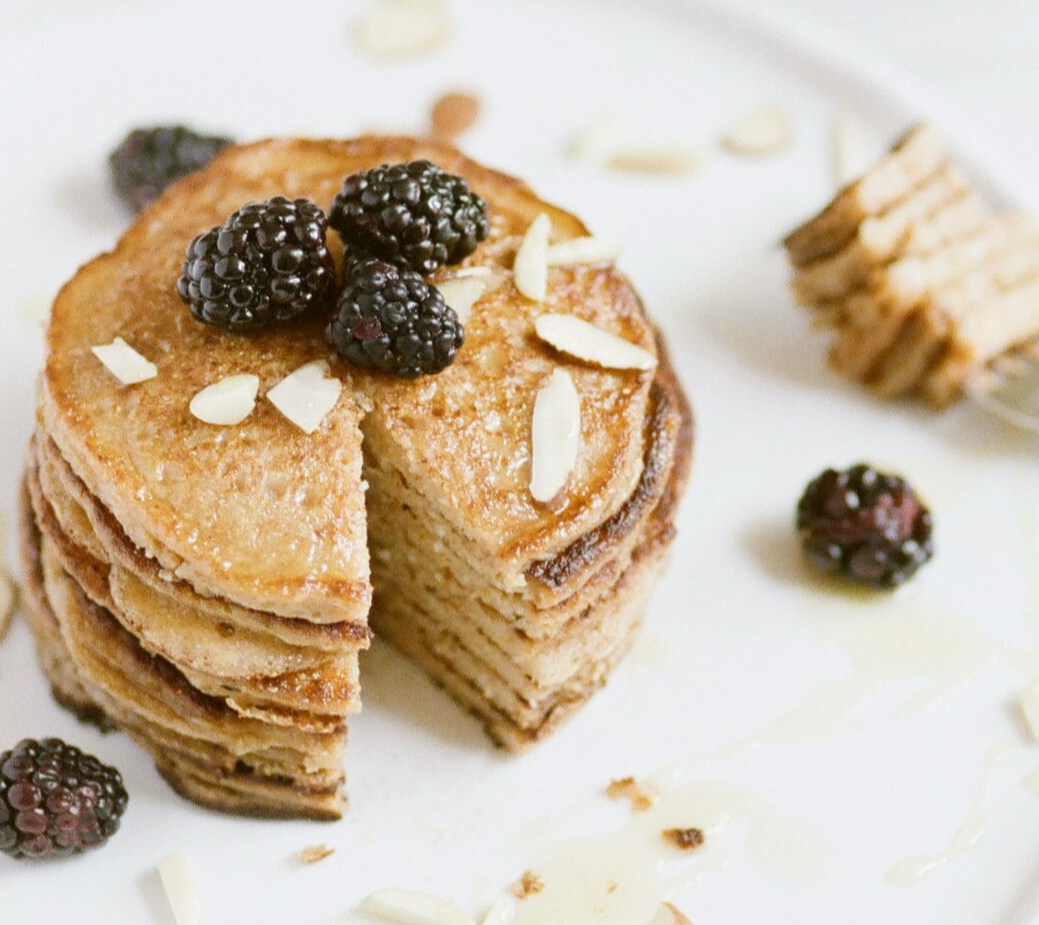 1¼ cups gluten-free flour
(we use
King Arthur GF blend
)
¼ cup old-fashioned rolled oats, gluten free
2 tsp aluminum-free baking powder
1 tsp ground cinnamon
¼ tsp sea salt

1 medium banana, mashed (the more ripe the better)
1¼ cup almond milk
2 Tbsp sunflower oil or melted coconut oil
1 tsp vanilla extract
Dash of ground nutmeg, optional

1) In a small bowl combine the dry ingredients. Stir well and set aside.
2) In a large bowl whisk well the banana, milk, oil and vanilla.
3) Using a measuring spoon, gradually scoop and mix the dry ingredients into the large bowl.
4) Heat skillet to medium-low heat. Add a 1 tsp oil to the skillet if needed to prevent sticking.
5) Once heated, pour ¼ cup pancake mix into the skillet. Smooth out about 4 inches in diameter.
6) Let cook each side for about 60-90 seconds, until golden brown. Move to a plate until ready to serve.


Serve hot. Top with applesauce, puréed berries, nut butter. Makes 8-10 pancakes.

* To freeze, lay flat (single layer) on a parchment lined cookie sheet. Place in the freezer for 30-40 minutes or until solid frozen. Pop in a freezer friendly container and eat within 3 months. To reheat, put in the toaster and warm.
---