08/07/2020 12:00 AM Central
Lydia Eppic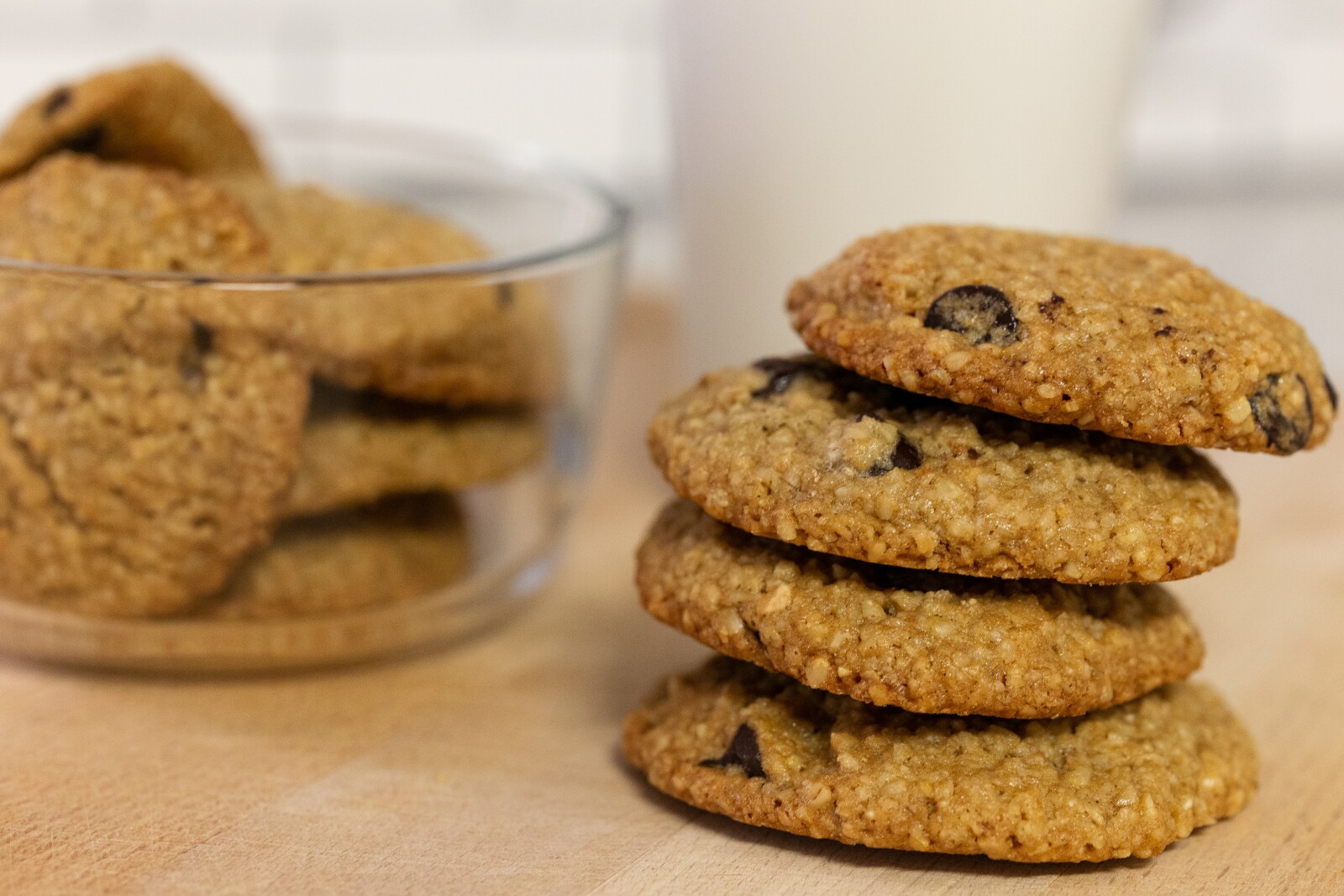 Time to get ready for school! And that means preparing lunches, activities and midday snacks. As a gluten-free dairy-free mom I am very familiar with creating special treats for my kiddos - birthday parties, school snacks, play dates, etc. And while we choose to eat pretty clean it doesn't mean snacks have to be boring.
My goal is to make allergen-friendly foods so delicious that even the restriction-free kids (and adults) come back for seconds and thirds. And this recipe does it with style!
Adding in oatmeal + almond butter to these chocolate chip cookies makes for a more filling cookie and gives an extra protein boost - and I'm all about that, especially with sweet snacks. (Take a quick look at protein-sugar ratio). Be ready to make two batches so you and your hubby can enjoy them, too!
Oatmeal Chocolate Chip Cookie
1 cup GF all-purpose flour (for best results, use King Arthur Gluten-Free Flour)
3/4 cup GF rolled oats
1/3 cup GF/DF semi-sweet chocolate chips (our fave is Enjoy Life)
3/4 tsp baking powder
1/4 tsp sea salt
1/3 cup coconut sugar
2 farm-fresh eggs
2 Tbsp almond butter
3 Tbsp melted coconut oil
2 toothpick swirls (tps) Cinnamon Bark Vitality
1/2 tsp vanilla extract
Preheat oven to 350° F.

In a large bowl, combine the flour, pasta, chocolate chips, baking powder, sea salt and coconut sugar.

In a separate bowl, whisk the eggs, almonds butter, coconut oil, Cinnamon Bark Vitality and vanilla extract until fluffy. Fold into the dry ingredients, mix until combined.

On a parchment lined baking sheet, scoop out rounded tablespoons spaced about an inch apart. Press down gently to make discs.

Bake at 350°F for 10-12 minutes or until golden brown underneath. Remove and let cool for 5 minutes on a cooling rack (if you can 😅) .
Serve warm. Makes 12 to 16 cookies. Store in an airtight container for up to 5 days.
---
Looking for simple tips to keep your family on the healthy track?
Click here
to get your FREE "4 Simple Ways" guide.

This post may contain affiliate links.